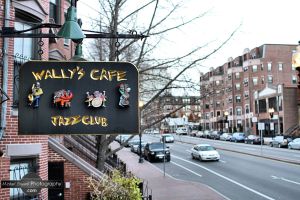 So, after the first three shows of patrolling my 'comfort zone', show number four of 2014 found me headed to Wally's Cafe – a family-owned jazz club that's been open since 1947 over at the intersection of Mass Ave and Columbus.
Jazz isn't my thing. At least I don't think it is. The drummer of one of my bands tells me that this because I, to quote him, "suck at music and have shitty taste in everything" – an argument that has merit – but, I just really have never had any education into what it is and why I should appreciate it. This wasn't going to be the night for that, though. I brought my girlfriend with me and we went on the Sunday night before President's Day – a night which, it turns out, was far more funk than jazz.
Their website listed the band name as "Wally's Stepchildren 3" and the start time as 9 pm. We showed up at 9:45 and walked inside to an empty stage. My first reaction – the room is extremely small. That can't be underscored enough. It is EXTREMELY small. It can't be more than 60 feet from the door to the back of the stage and there can't be more than 10 feet between the bar (on the right-hand side as you enter) and the wall on the left-hand side.
Given that we were 45 minutes late for the show, I was concerned that the holiday had rendered the show void. But, there were 35 people in the room and only 6 empty chairs. Worth noting: it felt PACKED with 35 people in it. I grabbed a couple of Lagunitas from the bar and we grabbed two of the remaining chairs and sat down.
At 9:56, the first person carrying an instrument walked in. Bandmates proceeded to trickle in over the next 60 minutes. Given the 9pm start time, I was modestly irritated; however, it was clear that I was the only one irritated. Most people there seemed to have been there before and this was pretty clearly par for the course, so I ordered myself another drink and resolved to chill the fuck out. The jukebox fluctuated from The Clash (which I loved) to Kanye (which my girlfriend loved) and ultimately to Sam Cooke (which we both loved).
At 10:51, the show finally began and it was pretty electric. The room swelled to just over 50 people, a capacity so large that it prevented us from getting up and getting new drinks or going to the bathroom – something that would have basically required us to cut through the middle of the stage area. To me this was an issue because I spent a long time in my youth playing at a SHITTY fucking bar where the patrons literally had to walk through the center of the "stage" to get to the bathroom. It sucked. A lot.
The band was great and the frontman was better. According to the website, they're in permanent residency on Sunday nights. Reader take note – if you want a sure thing, find a permanent residency. Clubs don't give those things out unless they work EVERY time. The club and the artist get comfortable with each other and then some really fun stuff starts to happen. It was clear from the first note of their set, these guys wore Wally's like their favorite shirt.
The crowd seemed equally comfortable – paying rapt attention to every note and dancing, hooting, responding to every cue. You know that awesome feeling when you go see a band like U2 and Bono puts his hand in the air and everyone in the arena puts theirs up too? Would you believe it's honestly better in a small room – where you can see the faces of every other person doing it with you? It's better because you feel like you're in on a secret. This type of thing happens every night in your city, you just have to know where to look. It's intoxicating.
That said, there were a couple of super drunk townies who (based on the conversation I overheard) were from Lynnfield that danced their way to the front. After dry-humping in front of the band for a couple of songs, the girl started asking the keyboard player if she either could sing with them or if they would play their requests. He graciously declined. Then they both became belligerent towards the band. The ENTIRE crowd turned on them and they left minutes later. Good shit, Wally's.
PERFORMER SIDEBAR: If you go to a show and approach the performers asking to be included in anyway, FUCK YOU and FUCK YOU HARD. Chances are the person on stage has spent hundreds of hours refining their performance. The last thing they should have to do is cede the spotlight to you because "like, guy I fahkin play the shit outta Tohm Petty, dood". If you were ever this person, you suck. Know that everyone thinks so and know that it will NEVER get you laid.
Anywayyyyyy….around 11:30, the room opened up a tad, dropping back down to 35. I seized the opportunity to grab another round, asking for a scotch this time. The bartender – who was extremely friendly – poured me one and realized that he had poured another of the same brand erroneously earlier in the evening. He commented on the fact that he appreciated both that I'd tipped well and that he hadn't seen me before and gave me the other free of charge. Good shit, bartender. Good shit.
Come midnight, the place filled back up to 50+ – a clear indicator that the club has its own built-in regulars. We caught a few more songs, but my reluctance to approach the stage to use the restroom came home to roost. So, around 12:35, we decided to hit the road. I feel like I didn't get the 'genuine' Wally's experience (given that it wasn't pure jazz), so I will go back.
But, if I want a place to enjoy reasonably priced drinks and flawlessly executed music in an environment built to crave it – I'll go back to Wally's. As I mentioned twice before – good shit.
– Mick Greenwood