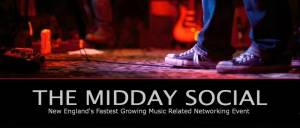 Tonight! (Thursday, August 28) Come meet local music industry reps from all across New England! FREE / ALL GENRES / ALL AGES
Final details on tonight's The Midday Social!
Due to this event being reschedule to tonight from a previous date Joe Graham of The New England Music Awards and Amy Nachbar ofExaminer.com are unable to join our industry panel. They will be on the panel at our next event. In their place we have:
Marc Clarkin – Music journalist for Motif Magazine
Phil Fleming – Local music DJ at WMFO 91.5FM (The Dweezil Show)
Tony Pacitti – Music journalist for Providence Monthly
John Laurenti of Boston's Classic Rock, 100.7 WZLX will be moderating.
The Studio Cellar podcast will be set up on location for interviews again. They'll be on the backside of the bar. Ask for Jim Schultz, Tom Ribeiro, or Jax Adele.
Also, Scarpetti of 94HJY-The Home of Rock and Roll (host of Soundcheckand The Metal Zone) and DAve Crespo of Boston's WEMF Radio and co-host of Bay State Rock on WAAF are unable to join us due to prior commitments. They have both asked that Midday Records collect CD's from the artists in attendance tonight for airtime consideration on their programs. So if you're in a band make sure you turn in two separate CDs with your material to me. I will be hand delivering these to both stations.
This will be the first time Scarpetti has not been available for this event. We are honored that both he and Crespo are still providing the same opportunities for the artists that attend as if they were here. Scarpetti has played MANY of the artists that turn in material at this event. Crespo also gives artists a spin and helps promote when the bands have upcoming shows in the Boston area. Again, this is a great opportunity to get these stations, and others, your material so don't miss out on this tonight.
I'd also like to remind bands to bring plenty of CDs to give to other stations, promoters, and the music journalists tonight. And don't forget to turn one in to our DJ by 8:00 the latest if you want us to spin your songs at tonight's event.
Our sponsor MusicTown (Seeking Local Musicians) and Circle-Jam Productions will still be setting up gear in the back room for impromptu jam sessions. On our main stage we have:
Tracy and Shawn of VulGarrity
Mardi Garcia of Mardi and The Astral Seekers
Jenn Lombari Jenn-Kitten of Lucky United
Mike Baker of Sgt. Baker & The Clones
And closing out the night will be a full live set by The Skinny Millionaires.
Lastly, Providence Night Out (Providence Nightout) have been good enough to bring out Elwood's Dog House food truck for us all tonight!
We start PROMPTLY at 7:00 at Platforms in Providence, RI (industry reps should be there by 6:00 to set up). ALL AGES / ALL GENRES / FREE