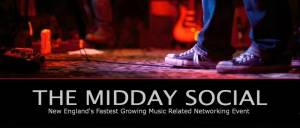 TONIGHT! Get over to the Fatt Squirrel in Providence, RI for the "Perform at The Midday Social" competition presented by Midday Records and featuring The Dust Ruffles | Brother Ghost | The Skinny Millionaires | Tomorrow and Tomorrow! Our judges include DAve Crespo of WAAF, Full Scene Ahead, and WEMF Radio; George Nasser of Providence Night Out; and Ashley Goldberg of AAG Booking and formerly of 90.7 WXIN.
This event is also doubling as Jessica Prouty Band's Rhode Island CD release! They'll be headlining the night before we announce the winners of the event!
The winner will perform at the next Midday Social on Thursday, August 28 at Platforms in Providence, RI. Don't miss this!
GoLocalProv has listed this event as a music must for tonight!
http://www.golocalprov.com/lifestyle/5-live-music-mustsjuly-11-2014
And Providence Phoenix just did a big piece on Midday and listed tonight's event!
http://providence.thephoenix.com/music/158883-most-valuable-players/
Thanks to Nate Grist who will be on hand photographing the evening and to Pat Keister of PALS who will be manning the door. And Mark Charron of Midday and Satellites Fall will (most likely) be our host. (Tonight is also Mike O'Donnell of Skinny Millionaires birthday!)
DOORS at 8:00 | 10 BUCKS | 18 PLUS! ‪#‎celebratelocalmusic‬