Quilt – Held In Splendor (Mexican Summer)
http://www.facebook.com/quiltmusic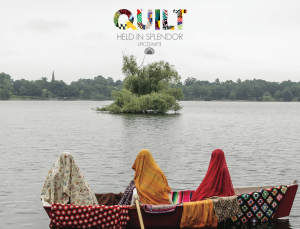 With Held In Splendor, Boston trio Quilt modernize their early-seventies psych-pop sound with contemporary production. The influence of Revolver-era Beatles and Rumours/Tusk-era Fleetwood Mac are still readily apparent throughout but with layer upon layer of vocal effects, guitar pedals and droning loops, it is impossible to mistake Held In Splendor as anything but a thoroughly modern creation.
Across 13 tracks and 40-plus minutes there is not a down moment. "Arctic Sharks" opens the record with Anna Rochinski's breathy vocal riding a middle-easternized, country-tinged rhythm. "Tied Up In Tides" sounds like a tripped out Abba tune with the cheese-pop trimmed off by Hammond-sounding organs. "Mary Mountain" and "Tired & Buttered" crank up the psych-rock with their fuzzed out girl/guy harmonies and tinny, distorted, clanging guitars. "I Sleep In Nature" is a 5-plus minute mind-journey that comes in waves. Warbling affected vocals and tempo changes throw the excursion off balance – like experiencing the song from the deck of a keening ship.
Experience New England's psych-rock revival for yourself when Quilt returns for a homecoming show at Allston's Great Scott on March 1.
– George Dow