Our band of the week is Fly Kite Canvas from Portsmouth, Rhode Island.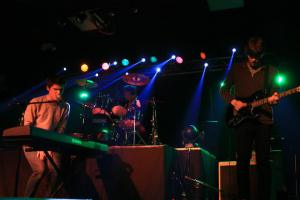 The origins of the band now known as Fly Kite Canvas can be traced back to the fall of 2009. Comprised of friends Chris Cooney (vocals/keyboard), Donald Larson (guitar), Jacob Telford (bass/vocals) and Zack Rego (drums), the band performed under the name Scarlet, and quickly gained a local following with their unique sound and fresh compositions, profoundly mature for a band of such a young age. They remained active for the rest of their high school years, releasing an EP in the summer of 2010, and continuing to win over audiences show after show.
When it came time for college, rather than parting ways, the band stuck together, sacrificing their weekends for practices and gigs. Since then, their dedication has not wavered. Countless hours of writing, practicing, and performing has only strengthened the dynamic of the young quartet.
With a sound that's as imaginative and colorful as the name its given, Fly Kite Canvas combines powerful, tightly wound instrumentals with passionate vocals, creating songs that are inherently interesting and honest, sure to resonate with any listener. With a brand new release on the way, 2013 looks to be a promising year for this young group of musicians.
2012 95.5 WBRU Rock Hunt Semi-Finalists
2013 90.7 WXIN Rock Hunt Semi-Finalists
Recent winners a The Rhode Show contest. They'll have a track appearing in a Cardis Furniture commercial.
When Fly Kite Canvas won the 2013 Rhode Show Big Break Contest. This song was featured in a Cardis' Furniture commercial that aired during the American Idol finale. It also their first official release under their new name.