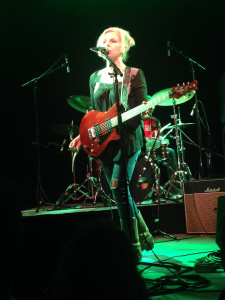 I'm old enough to remember the end of the first part of The Muses' career but I never had the opportunity to seem them back in the good old days. Typically after twenty-some-odd years pass it's something of a crap-shoot to go see a band on its second (or third) run. Often as not, you end up watching a gang of decrepit old musicians trying in vane to reproduce their glory years. Thank Christ that's not at all what The Muses had in mind. Instead, we were treated a performance that felt as vital as if it were still 1988.
Singer/Guitarist/Mastermind, Kristin Hersh hit the stage like a dervish—a force of nature. Her gnarly hands and vein-popping neck showing every mile of road she has traveled with The Muses, as a solo artist, and with 50 Foot Wave. Her round, cherub-like face stilling looking like the just-out-of-high-school indie-rock star of the mid-eighties. The juxtaposition of young against old, a beauty in and of itself.
Watching Hersh perform is an intense experience. Chin down and eyes forward, staring into some unknown point in space at the back of the room, she attacks her guitar ferociously. Ripping the chords—up, down, up, down—again and again like a machine. Her voice able to flip from throaty growl to ragged scream on a dime. How someone who can sing such beautiful ballads manages to shred her own throat in raging screams throughout the set is a wonder to me.
Their performance reminds me that The Muses had perfected the art of loud-quiet-loud before Kurt Cobain was out of elementary school. I wonder, as I always have, why, like the Pixies, the Throwing Muses never really gained the recognition they deserved. This hour- and-a-half set was a clinic on the best of what the first wave of American indie rock had to offer. When grunge came along half a generation later most of what it had to offer was nothing more than a shadow of what the Throwing Muses bring to the table.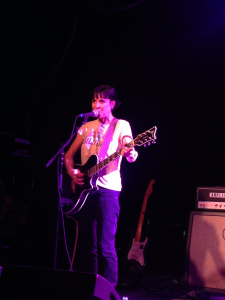 They play as a three-some for most of the night (sans Tanya Donelly). Bassist Bernard Georges and Drummer David Narcizo play their supporting role to perfection. They set the workman-like rhythm, light Hersh's fuse, and let her simply go off. The pair still get a tremendous kick out of watching her perform. It's as though they are pleased just to have the opportunity for a front row seat.
When Donelly joins them on stage for a few songs it's amazing to see them play together. It's great to hear how their completely different voices interplay with each other. The fact of the matter though it that the Throwing Muses are and always have been Hersh's vehicle. the songs they play together this evening do nothing to dispel this fact.
The Muses have been a part of my internal soundtrack for the better part of my life. Like so many bands' with deep catalogs, song-titles and albums run together in my muddled brain. This fact gives me the benefit of not having to spend the night worrying whether or not they'll play "Marriage Tree" shouting for "Firepile". Instead I can simply stand back and enjoy the fury. I honestly couldn't tell you which songs were old ones and which ones were new ones. And that's exactly how I like to watch a show. Simply breathing in the spectacle. What a beautiful spectacle it was.
– George Dow