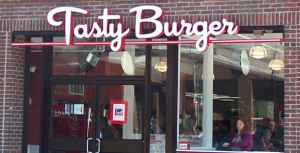 Show number five went down on February 21st, a Thursday night. I was really excited for it for two reasons: (1) Doug Sherman (guitarist of Gozu and Superhoney) was booking it under his "Mondo Thursdays" banner. Doug's taste in music seems to overlap with mine a lot, so I knew I'd enjoy the bands. (2) It was my first chance to catch a show at Tasty Burger in Harvard Square.
I hadn't been to TB's Harvard Square location yet. I used to bartend at Grandma's Basement, the former underground comedy club hidden in the old Howard Johnson that used to be behind Fenway Park, which was right next to a Tasty Burger. I used to eat there all the time, but nothing about those experiences was helping me envision how a Tasty Burger could possibly be a venue. But, I was excited to be proven wrong, and really expected that I would be proven wrong, given the fact that the two people I knew who were booking shows there (Doug and head-booker Jim Seery, of Plough and Stars fame) know what they are doing.
So, I arrived at 9 pm (for an advertised 8:30 pm start time) and walked in. I found the stairway to the basement (the "venue") but immediately noticed there was no signage that indicated there would be music down there. I walked down the stairs and into the room. The room is rectangular in shape and you enter it from the middle. To your left is a large bar that serves beer and wine only (but had a pretty good craft beer selection) with two large-screen TVs above it. To your right is a pool table and a 'stage' against the far-side wall…but it wasn't in the corner, meaning that people could be both in front of and behind the stage if they wanted to.
For starters, the place was packed – absolutely packed. There were easily over 100 people there.
I scanned the room and was immediately very confused. On the 'stage' was a guy running a trivia game that very few people seemed to be playing. Given the time on the clock and the activities on the stage, my first thought when I walked in was that the show had been cancelled. I walked around the room and finally noticed Doug and a group of musicians sitting together at a large booth and they did not look happy. I immediately realized the club had double-booked. Having been in that position once as a performer myself, I resolved to grab a burger and wait the night out.
I sat down at the bar and realized that everyone around me appeared to be 'The Harvard Crowd' and they were paying their rapt attention to the Duke vs North Carolina NCAA Basketball game. I ordered a burger and a beer and I waited. And waited. And waited. With three bands waiting and only 2 teams playing, the trivia guy really took his sweet time.
The acoustics of the room were pretty suspect, too – it was so woofy/boomy, I couldn't even make out what he was saying as he asked his questions. At 10:30 (two hours after the scheduled start time for the show), trivia concluded. The host made no announcements that music would follow and then proceeded to take his time clearing his laptop, table and boom box from the stage.
The first band, Left Hand Blue, built the stage in record time, but they were unaware of a growing problem – the Duke/NC game was turning into an instant classic.  The bar manager did the bands no favor by cranking up the volume on the TVs as soon as trivia was done. He was so enthusiastic about getting the crowd into the game, that he even got into an argument with a dozen patrons who were mad that he turned every TV in the bar to Duke/NC, when some were watching the Olympics.
The point is that everyone was looking at the left side of the room. No one saw the band building a stage behind them. No one from the club was telling the crowd that a rock show was about to start behind them. So, at 10:52 with 90 seconds to go in the game that over 100 people were eagerly watching, the music started. It was loud. And people were shocked, they were indignant and they were pissed. I actually found myself forgiving the weirdness and could envision it becoming oddly endearing.
I wanted to put a positive spin on this article and wanted to end it by saying something like "I am going to come back later this year when this room finds its way. They could be a great addition to a venue-strapped scene." Then, two days later – this happened: http://www.vanyaland.com/2014/02/23/rock-show-tasty-burger-gets-unexpectedly-shut-venue-opening-bands-set/ Now, I have decided there is no positive spin. So buckle up – here's my first epic takedown of this 52-article experiment.
Tasty Burger is a room with all the charm of a spoiled child who wants everything ( "I want trivia!" "I want to be a sports bar!" "I want to be a venue!" ) but lacks the vision or conviction to channel any of that into an identity. The poison combination of aimless ambition, blatant incompetence and alarming lack-of-awareness with which Tasty Burger has run its short-lived experiment as a music venue is so dangerous for this city.
The danger comes from the fact that, on both of these nights, several hundred people were sent the message by Tasty Burger's incredible disrespect that "local music is here to annoy you and rob you of a good time". Can you blame these people for thinking so? If you were out to dinner, enjoying conversation and someone sat down next to you with a boom box blaring and refused to leave, how would you feel? But if you walked into a bar and saw a sign that said "MUSIC TONIGHT! 9 PM!" then you would have the ability to make a CHOICE.
Tasty Burger repeatedly took away the element of choice from its customers and, in doing so, they placed musicians and listeners in an adversarial relationship and the whole thing was so fucking unnecessary. Tasty Burger asked to be a venue. Musicians didn't show up with instruments begging to be let in. Talented people lined up to help – to book, to play, to attend….and the restaurant wasted their time, wasted their customers' time and they sure as shit wasted my time that night.
So, in closing, even if they decide to continue as a venue, I will NOT be back. I'll get my burgers at FourBurgers and I'll get my music at a real venue where I can order a fucking whiskey.
 So ends Tasty Burger: The Venue. Maybe someday you'll grow up and stop being a weathervane of bro. Probably not.