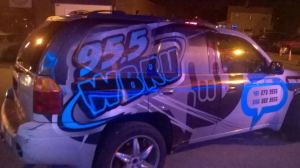 Last night (Friday, April 18) was another fantastic night celebrating local music for Midday Records, 95.5 WBRU, Narragansett Beer, and Mardi Gras MultiClub Presents: The Sweet Release, The Skinny Millionaires, The Brother Kite, & The Morgana Phase at Mardi Gras in Cranston, RI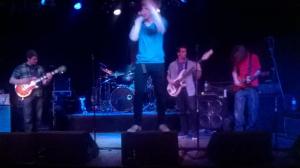 The Sweat Release kicked off the night and we can say that everything you have been hearing about The Sweet Release is true. Musically, they borrow from 70's punk, hard rock, and some classic rock. Frontman, Austin Sheridan is a combination of Mick Jagger and Iggy Pop with a dash of GG Allin (without all the self-mutilation, defecation, and beating up fans). And we don't say that lightly. Austin brings the sex, controversy and provocation, and one hell of a performance. When you see them you'll either get it or you won't. You'll either love them or hate them. There is no in between.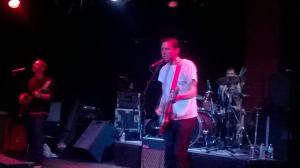 Up next were The Skinny Millionaires. Anyone who saw Mike O'Donnell play an acoustic set at The Midday Social and were expecting a similar sound with some drums, as we were, were in for a surprise. Mike gave an amazing performance at The Social but the full band brought more of a punk rock element to the table. They describe themselves as folk rock n roll and while their is plenty of rock there is also plenty of good old fashion punk. Especially in how they approach their backing vocals and harmonies. Pure bliss.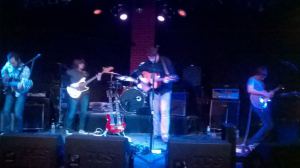 Things shifted gears when The Brother Kite took the stage. Incredibly tight and absolutely beautiful. Last time we saw them was over at Fete Ballroom in Providence, RI opening for Civil Twilight. They've been around for some time and are just one of those bands that capture the beauty of local, independent music. Their sound is ethereal at times and rhythmic at others. As a musician watching other acts you often unintentionally zone in on the strengths as well as the weaknesses. There were no weaknesses. These guys are damn near flawless. Interesting and beautiful guitar work, extremely tight rhythm section, and vocals with harmonies that were spot on. I heard elements of Arcade Fire, Death Cab, and even some Cure (good Cure) in the lead lines of some of their older material.
The Morgana Phase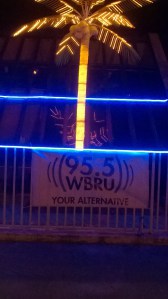 were up last. These guys pull from post-hardcore with some punk/emo. It was definitely evident before they covered a Taking Back Sunday song that they were heavily influenced by them and bands like Brand New. They gave a very energetic performance, engaging the crowd and getting every last person in the venue up on their feet. Could not have asked for a better closing to the night
The great thing about events like this, other than the performances, is hanging out and getting to know artists. We spent much of the night hanging with Mike O'Donnell of The Skinny Millionaires, a man who is as sincere as he is polarizing at times. And while we won't go into details, we want to publicly give props to The Sweet Release for their willingness to step up and do whatever it took to make the night a success and run smoothly.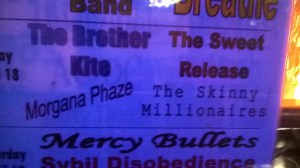 Thanks to the BRU crew for coming out and giving away some great swag and for their continued support of local artists. Also, thanks to 95.5 WBRU and Narragansett Beer for sponsoring the event and their help promoting. Thanks to Mardi Gras for hosting these events and allowing Midday to bring in local artists. Also, thanks to our friends from Providence Night Out, 990Wbob.com, Downcity Armory, and The October Accord for constantly coming out to support local artists and our events.