First and foremost, CONGRATULATIONS to The Rare Occasions. They'll be moving on to the final round of 95.5 WBRU's annual rock hunt!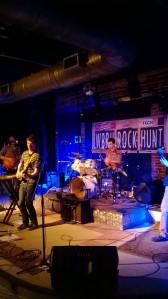 We headed over to The Spot Underground last night for the first semi-final event of the 2014 Rock Hunt. Both Here We Just Dream and The October Accord played amazing sets. But The Rare Occasions have definitely stepped up their game. They played a fantastic set last year in the Rock Hunt and still managed to top it this year. These guys have been on the rise and have obviously been working hard at it. They don't even have time to enjoy their win as they are hoping on a plane Wednesday for a few SXSW tour dates. They'll be back in the area in time for the Rock Hunt finals over at The Met.
We were pretty psyched this event was being held at The Spot. One of those venues where we are fortunate to call just about every staff member a good friend. Always great to have a few drinks with our pal, Josh, who keeps things running over there. But have to say, Joe Ferro is not as fun when he's on the clock! It was definitely nice catching up with them and the WBRU crew. We also ran into the boys from Fly Kite Canvas. We may have to start an official petition to get these guys back together. Also, met up with George from Providence Night Out, Todd from Downcity Armory, and Nina from BB Entertainment. After the event, we all headed over to Dusk to catch Nymphidels and Viking Jesus.
Even with all the rushing around we, unfortunately, missed Nymphidels set. Grrrrr. We made it in time for Ants in the Cellar's and Resistor's sets. Major props for Rob Duaguy for putting together this lineup. A great bill that drew lots of heads out even going up against the Rock Hunt kick off. Viking Jesus, of course, killed it. We say this every time but these guys are made up of some of the most talented people in the Rhode Island music scene. George Dussault was sick and still managed to play a beautiful guitar solo with his eyes shut. Literally. He even played it with the guitar behind his back. Show off!
Dusk is another venue where we always seem to run into so many good people. Our crew spent the rest of the night hanging with Rick, the owner; Marc Clarkin from Motif Magazine;  Kelley Bowman from 990WBOB, Dave from 13 Folds Magazine, and the boys from Torn Shorts. (Who, coincidentally, won last years 95.5 WBRU Rock Hunt). Some of the nicest cats you'll ever meet.
Fun nights can also be exhausting nights. But no time for rest. Tonight we have our first official meeting for Music For Paws with Tracy & Shawn from VulGarrity and Chris Conti from Providence Phoenix. There are some great ideas being tossed around to raise funds and make this one hell of an event.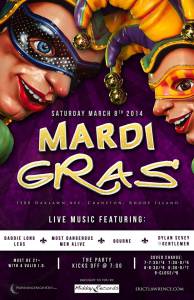 Then we'll be at Mardi Gras MultiClub in Cranston, RI for Midday Records Presents: Dylan Sevey and the Gentlemen, Bourne, Daddie Long Legs, and Most Dangerous Men Alive. This is a great bill so I hope to see you there!
Tomorrow, (Sunday, March 9th) we'll be heading over to Fete to pig out on some scrum-diddy-umptious treats for RI Food Fights 3rd Annual Great Cupcake Championship with  Providence Night Out and then we'll be rushing over to The Spot to guest co-host Sully's Cafe. Weld Square will be our guests. Good times!
Let the fun continue!