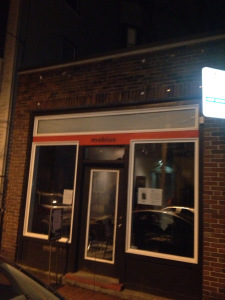 Show number six was Sunday, February 22 at a venue I had heard of prior to my receiving an invitation to this show – a place called Mobius. The facts that (A) There was a venue I hadn't heard of in town after playing here for nearly a decade and (B) It was walking distance from my house, (Norfolk Street, a block from Central Square) were mind-blowing to me.
Surely, it must be new, right? NOPE. Mobius has apparently been around since 1977, though it has changed locations a couple of times. It's not exactly a venue, so much as it is a presentation center. It is, by its own mission statement (http://www.mobius.org/content/about-mobius), "a non-profit, artist-run organization, whose mission is to generate, shape and test experimental art."
Finding the building was oddly challenging. It is extremely modest and the only non-residential structure on the block. Thankfully, my friend Jonah (cellist of The Steve Walther Orchestra, among other acts) caught me wandering around like a fool outside and guided me in. The room is extremely small – I was told it was previously an office for a small realty firm.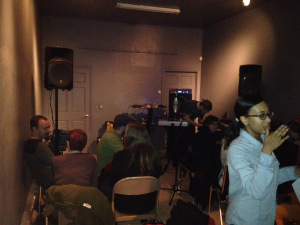 The were three rows of seats with an aisle down the middle, with three seats on each side of the aisle. On the right hand side as you enter is the ticket desk and the donation bin, on the left is the standing-room-only space, giving the room of capacity of just under 20 people. As I entered, I was asked if I'd match the suggested donation of ten dollars and assured that, could I not afford it, I would be happily welcomed notwithstanding. Cool. I paid it.
I arrived at 7:55pm for an 8pm start time and the show was off and running by 8:11. Each of the three performances were not 'sets', like I was used to. They were performances. The three acts (…And the Sky Was Red, Jay Sullivan and PAS Musique) all featured instruments I'd never seen before or, more accurately, devicees I've never seen used as instruments before. There were modular analog synthesizers, distressed vinyl turntables, carnival trumpets and loop pedals…and that was just the stuff that I recognized.
There were 17 people in the room when the show started and 15 when it ended. During that time, the audience was intensely focused on what was going on on-stage – amazing considering a great deal of what was happening was like watching electricians work. Wires were re-routed, loops were set, knobs were twisted…not your typical show to be sure. But it was fascinatingly new. The crowd was VERY into it. The dynamics of the show shifted so intensely that the songs fluctuated down to a barely-audible hum, but the crowd stayed silent. The music and crowd became so quiet at one point that I could hear the crinkle of nylon from the natural breathing cadence of a patron wearing a windbreaker. I don't think I could enjoy this type of show all of the time, but goddamn if it wasn't cool on this night.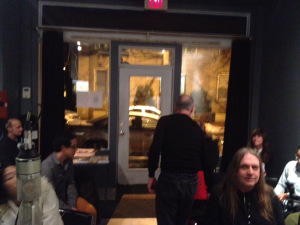 Worth noting, there was no food or beverage being served, but they had no problem with me bringing in a coffee. I asked if I had thought to bring a flask if they would have cared – they indicated that they would not have cared at all.
Before the final act of the night, the door attendant gave a brief and well-received soliloquy about Mobius' purpose and mission statement. The show halted at 10, which was probably about as long as the audience could have tolerated, but it was fascinating nonetheless.
So, experimental art at Mobius – a great find if you want something new and you want to see something you have not seen before. If you want to dance, or "rock out" – maybe not your thing. But I'm extremely glad I went and I will go again for sure.
– Mick Greenwood